DO YOU HAVE A DOG WHO NEEDS TO LEARN SOME BASIC MANNERS?
You've come to the right place.
You've brought home your bundle of furry joy and it's hard not to notice the razor-like puppy teeth and the puddles everywhere. The sleep deprivation is teaching you about a whole new level of exhaustion and you're worried you're doing everything wrong.
You're starting to feel that typical overwhelm that all puppy-guardians feel in the early days. Everybody out there is "an expert", and you're getting information from all angles and most of it is conflicting. It's hard to know what's right and what's wrong with so much advice on Google, from the breeder, the vet, your friends, people at the park, and your family too.
Wouldn't it be easier to have a team of professionals guide you through this process, start to finish with consistent information that gives you peace of mind, effective strategies, and tangible success?

That's where we come in. We are a team of Certified Professional Dog Trainers who have not only raised our own puppies, but who train guardians like you, every day. We have been running the city's best Early Puppy Socialisation classes since 2008 and your trusted Veterinarian has probably already recommended us to you.
We offer unparalleled support. Just ask our graduates!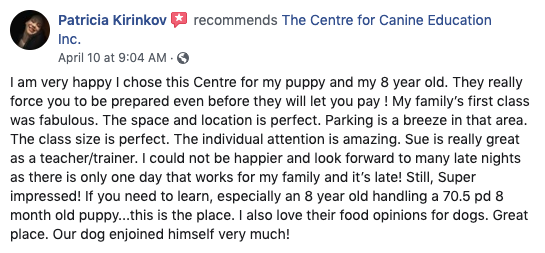 2: Watch our General Orientation video
3: SUBMIT PROOF OF UP-TO DATE VACCINES
4: Get started right away!
Requirements:
A healthy dog who has had at least two set of shots (Distemper, Parvovirus) and a Rabies vaccine (if over 6mo). Titer tests are accepted.

Friendly behaviour towards dogs and people - dogs showing signs of reactivity/aggression should register for private training.

If your dog is a rescue over 6mo of age, they must be in your home for 30+ days without signs of reactivity toward dogs or people.
If your dog has been diagnosed with an intestinal parasite, they may still attend after 5 days of treatment.
There is no age limit on dogs in this class. You CAN teach an old dog new tricks!