Secondary School
Basic Training Classes - friendly dogs of all ages
6 classes within 12 weeks, flexible schedule, start anytime!
Our Secondary School is a basic training program for friendly dogs of all ages. The classes are a mix of training, and problem-prevention. Pulling on leash, jumping on guests, demand-barking, and ignoring you when you call. Does that sound like your dog? Your dog sounds perfect for us!
Our classes are "open enrolment" so you start when you are ready (and once you have completed our Orientation) and graduate after completing 6 classes within 12 weeks.
The pass works like a yoga pass - you choose the classes each week that work for you. There are 6 themes and classes can be taken in any order desired.

We are a team of Certified Professional Dog Trainers who work with guardians like you, every day. We have been running the city's most flexible and effective group classes since 2008 and your trusted Veterinarian has probably already recommended us to you.
IN THIS MEMBERSHIP, YOU WILL:
Teach appropriate behaviours so that your dog behaves like a polite canine citizen and you can take them many places with you, without embarrassment.

Prevent problem behaviours like food/bone guarding, picking up dangerous items, jumping on people, barking at dogs, and ignoring you when you call.

Take 6 group classes within 12 weeks so you can complete classes at your pace, with the option to finish early or take some vacation time.

Meet different dogs and people every time you come to class, to broaden your dog's social circles and increase the number of socialisation opportunities.

Let us play matchmaker for you - we can help you set up playdates with vetted, appropriate canine friends!

Receive detailed handouts after each class so that you can you don't have to try to memorise everything we say and do and you are set up for success for practice-time at home.

Join a closed Facebook group for live support from our team and other dog-guardians who have completed our programs.

Receive discount codes for online courses, private lessons, virtual coaching, and more!

Can't get your questions answered in class? Hop on our live webinars to get the 311 you so desperately need.
We offer unparalleled support. Just ask our graduates!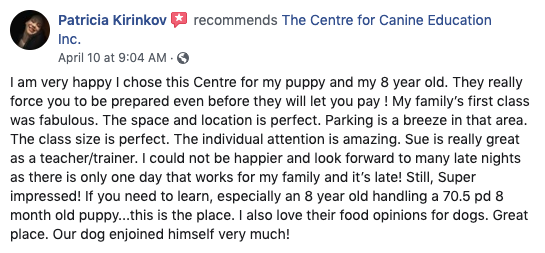 2: Watch our General Orientation video
3: SUBMIT PROOF OF UP-TO DATE VACCINES
4: Get started right away!
Requirements:
A healthy dog who has had at least two set of shots (Distemper, Parvovirus) and a Rabies vaccine (if over 6mo). Titer tests are accepted.

Friendly behaviour towards dogs and people - dogs showing signs of reactivity/aggression should register for private training.

If your dog is a rescue over 6mo of age, they must be in your home for 30+ days without signs of reactivity toward dogs or people.

Imported dogs must be seen by a local veterinarian and be in the home for 30+ days without signed of illness or reactivity toward dogs or people.
If your dog has been diagnosed with an intestinal parasite, they may still attend after 5 days of treatment.
There is no age limit on dogs in this class. You CAN teach an old dog new tricks!