You're going to get more than you bargained for!
Your whole family can attend
We provide a relaxing, low-distraction environment in which your dog (and you!) can learn. We use food, play, and other reinforcers to teach new behaviours and create positive associations. You will never need to use force or scare-tactics with your dog when you use our dog-friendly method of training. Your dog will respect and trust you!
your veterinarian trusts us
We run a tight ship here, and Toronto's Veterinary clinics and local breeders know it! We come highly recommended because they have seen us in action, attended our classes with their own dogs, and have seen the amazing results our classes can produce. We often send our graduates off to complete therapy dog evaluations, Canine Good Neighbour evaluations, and service dog work.
you'll get more than just the basics
We focus on the behaviours you need your dog to be fluent in as soon as possible (sit, down, come, drop it, leave it, go to mat, polite leash-walking). We spend ample time on problem-prevention for all the typical behaviour challenges we are often called on to resolve (reactivity to people and dogs, food and object guarding, leash-frustration, handling at the vet & groomer, impulse control).
yOUR SCHEDULE IS FLEXIBLE, JUST LIKE ours!
Our classes run like a yoga pass - you purchase a 6-class pass and you attend six times within twelve weeks. Classes are offered multiple times each week and you can fast-track or you can take your time and fit in a spay/neuter, a vacation, or a business trip. There are six themes to complete and each focuses on the behaviours you need your dog to learn, fast. We offer a convenient online booking system (web & mobile), too!
you can start ANYTIME
You don't have to wait until the next round of classes starts - you can start anytime with our open-enrolment system! This also means that your dog won't just be socialised with the same 4 dogs each week, there will be a variety of friendly dogs and people to meet every time!
you get so much more support than just classes
There is so much more! Students receive detailed handouts emailed to you after each class so that you don't have to take notes, instructional videos for typical puppy problems, referrals to other pet professionals whom we trust (walkers, sitters, vets, groomers, daycares), free and discounted online courses in potty training, home-alone training, crate-training, and more, and discounts on virtual and private lessons during your pass. Graduation includes a certificate, a photo, and social media fame!
You are forever part of our family
When you join our classes, you will have access to our TCCE Alumni forum (Secret Facebook Group) where you can get regular support from our team, ask questions, share experiences, and set up playdates with other vetted dogs. Running into challenges as your dog gets older? No problem - you still have access to us and we can help.
We offer unparalleled support. Just ask our graduates!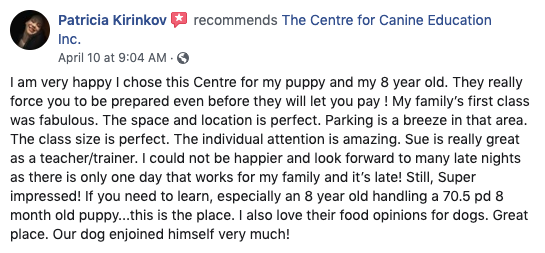 2: Watch our General Orientation video
3: SUBMIT PROOF OF UP-TO DATE VACCINES
4: Get started right away!
Requirements:
A healthy dog who has had at least two set of shots (Distemper, Parvovirus) and a Rabies vaccine (if over 6mo). Titer tests are accepted.

Friendly behaviour towards dogs and people - dogs showing signs of reactivity/aggression should register for private training.

If your dog is a rescue over 6mo of age, they must be in your home for 30+ days without signs of reactivity toward dogs or people.
If your dog has been diagnosed with an intestinal parasite, they may still attend after 5 days of treatment.
There is no age limit on dogs in this class. You CAN teach an old dog new tricks!