Primary School
Early Puppy Socialisation Classes - 8-16* weeks of age
5 classes within 4 weeks, flexible schedule, start anytime!
You've brought home your bundle of furry joy and it's hard not to notice the razor-like puppy teeth and the puddles everywhere. The sleep deprivation is teaching you about a whole new level of exhaustion and you're worried you're doing everything wrong.
You're starting to feel that typical overwhelm that all puppy-guardians feel in the early days. Everybody out there is "an expert", and you're getting information from all angles and most of it is conflicting. It's hard to know what's right and what's wrong with so much advice on Google, from the breeder, the vet, your friends, people at the park, and your family too.
Wouldn't it be easier to have a team of professionals guide you through this process, start to finish with consistent information that gives you peace of mind, effective strategies, and tangible success?
That's where we come in. We are a team of Certified Professional Dog Trainers who have not only raised our own puppies, but who train guardians like you, every day. We have been running the city's best Early Puppy Socialisation classes since 2008 and your trusted Veterinarian has probably already recommended us to you.
The pass works like a yoga pass - you choose the classes each week that work for you. There are 5 themes and classes can be taken in any order desired.
IN THIS MEMBERSHIP, YOU WILL:
Create positive associations with novel items, textures, sounds, people, dogs, in a controlled environment so that you can prevent fear and aggression from developing as your puppy grows into an adult dog.

Teach appropriate behaviours so that your puppy behaves like a polite canine citizen and you can take them many places with you, without embarrassment.

Prevent problem behaviours like food/bone guarding, picking up dangerous items, jumping on people, barking at dogs, pottying in the house, biting your feet and hands, and ignoring you when you call.

Let a qualified instructor supervise and narrate off-leash play with other puppies so that you can understand dog behaviour and body language, while your puppy learns how to play with other dogs nicely.

Take 5 group classes within 4 weeks so you can fast-track the learning during your puppy's most critical socialisation period (5-15 weeks of age).

Meet different puppies and people every time you come to class, to broaden your dog's social circles and increase the number of socialisation opportunities.

Let us play matchmaker for you - we can help you set up puppy playdates with vetted, appropriate canine friends!

Receive detailed handouts after each class so that you can you don't have to try to memorise everything we say and do and you are set up for success for practice-time at home.

Have access to an online puppy "handbook" with training videos to support learning and address all the typical puppy problems and questions you might have.

Join a closed Facebook group for live support from our team and other puppy-guardians who have completed our programs.

Receive discount codes for online courses, private lessons, virtual coaching, and more!

Can't get your questions answered in class? Hop on our live webinars to get the 311 you so desperately need.
We offer unparalleled support. Just ask our graduates!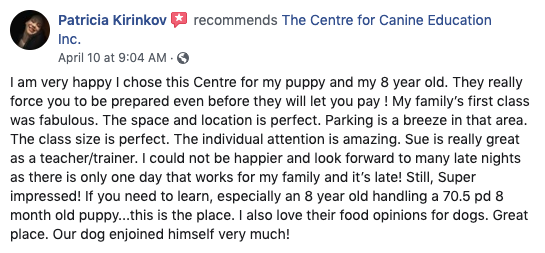 2: Watch our General Orientation video
3: Have your puppy seen by your local Veterinarian
4: Get started right away!
Requirements:
a healthy puppy who has had at least one set of shots (Distemper, Parvovirus)

a negative fecal test result or a deworming from your local vet

has been in your home for 7+ days without signs of illness.
If your puppy has been diagnosed with an intestinal parasite, they may still attend after 5 days of treatment.
*Extra-small and small breed puppies must start by the age of 14 weeks.
*Medium, large, and extra-large breed puppies must start by the age of 12 weeks.